Water Slides & Water Combos
for Rent
The Ultimate Water Slide Rental Experience!
All inflatable party rentals are for the ENTIRE weekend. We will deliver on Friday between 8am-8pm and take down on Monday.
Look no further, the King of Inflatables is providing the ultimate inflatable water slide rental experience in Bentonville & Rogers, Arkansas! Our water slide rentals are the best in the business!
King of Inflatables will also deliver to Fayetteville, Springdale, Siloam Springs, Fort Smith, & Van Buren! Add the item interested to your cart, proceed to checkout, and fill out your info to receive an instant price quote for delivery to your area!
Click any item for more details and pictures!
Professional delivery to
Bentonville, AR, Springdale, AR, Fayetteville, AR, Siloam Springs, AR, Van Buren, AR, Rogers, AR, Fort Smith, AR, Alma, AR, Booneville, AR
and surrounding areas. Please submit a quote or contact us to be sure we service your area.
Renting a water slide is a great way to have fun. The slides go quickly and are easy to cool down. These bright, large slides will have kids lining up at every turn to take a ride down. Only electricity and a water connection are required to rent a water slide. As long as the hookups are not more than 50 feet away you should be good.
You can choose from a variety of colors and sizes for both large and small water slide rentals. You should choose the one that's appropriate for your guests and their age.
Many slides can comfortably accommodate 10-20 people (provided they are not afraid to wait in line). Some children may be afraid of the taller slides. However, our slides can be safely used by all ages. Many have an edge wall to keep children from climbing on top.

Slides will be secured using stakes or sandbags, so that they can be used in light wind conditions.

We are certain you will be satisfied with your rental of any water slide from us, no matter how small or large.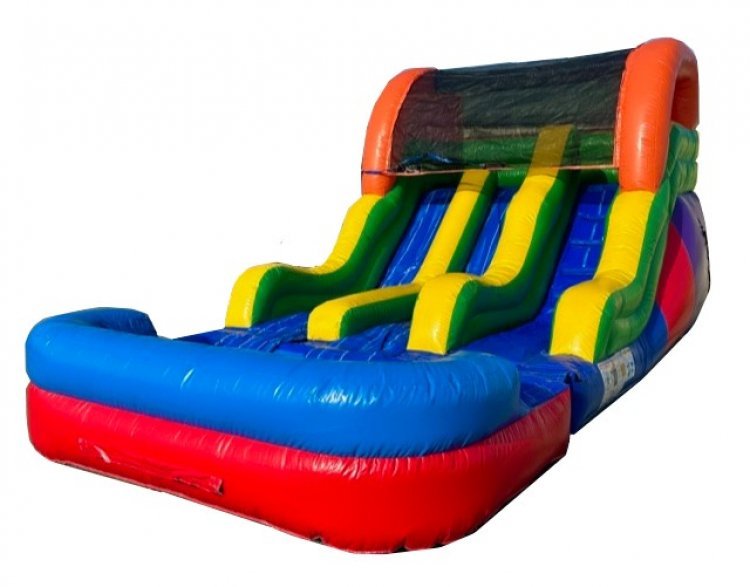 12ft Double Trouble Dual Lane WaterSlide
from $330.00
12ft Jungle Palm Water Slide
from $270.00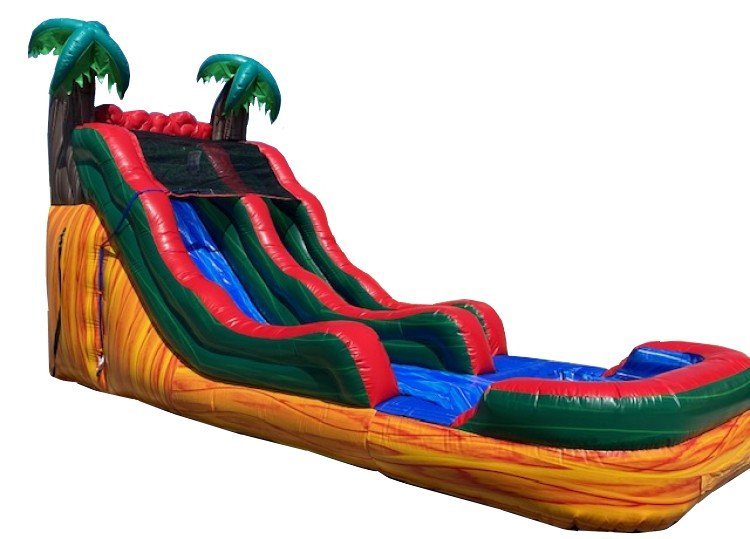 15ft Amazon Falls Water Slide
from $290.00
15ft Beat The Heat Water Slide
from $290.00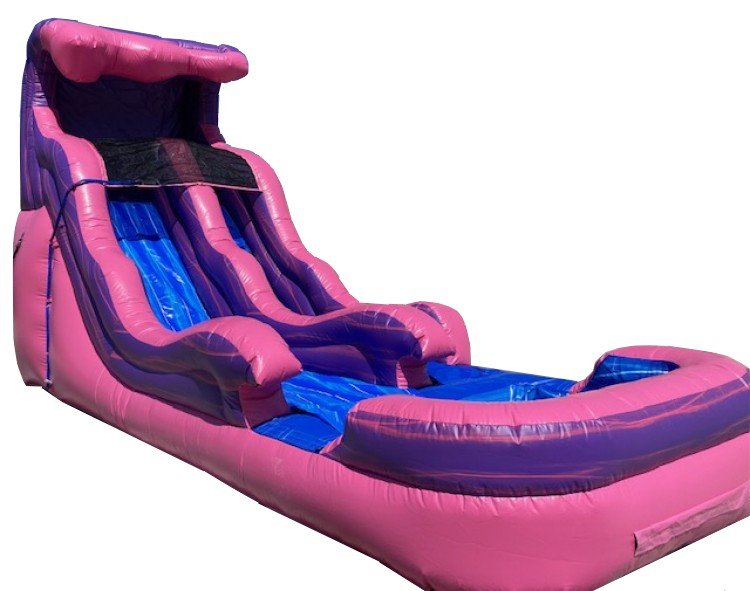 15ft Cotton Candy Wave Water Slide
from $290.00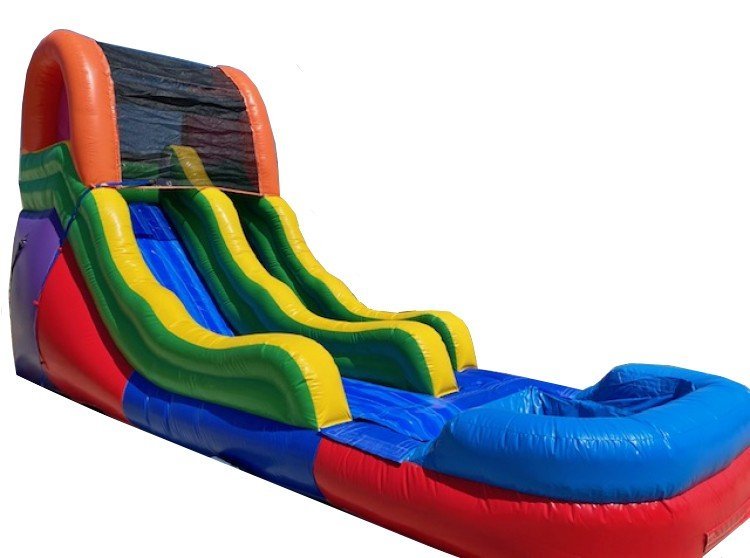 15ft Fun Water Slide
from $290.00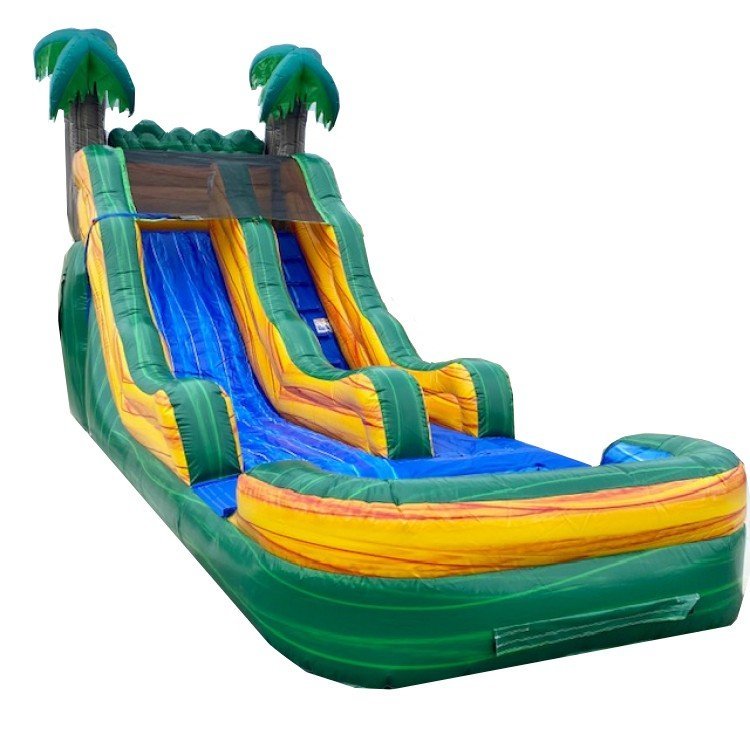 15ft Palm Island Water Slide
from $290.00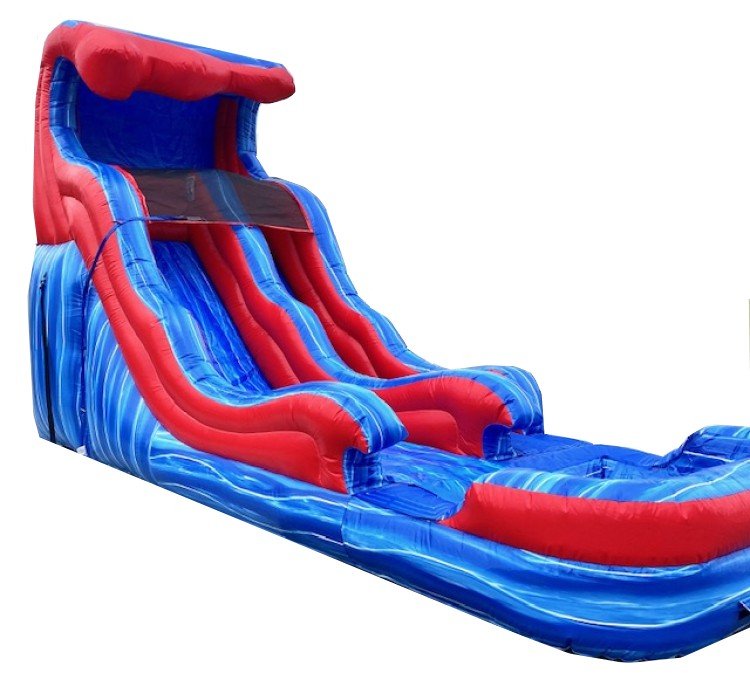 15ft Wave Runner Water Slide
from $290.00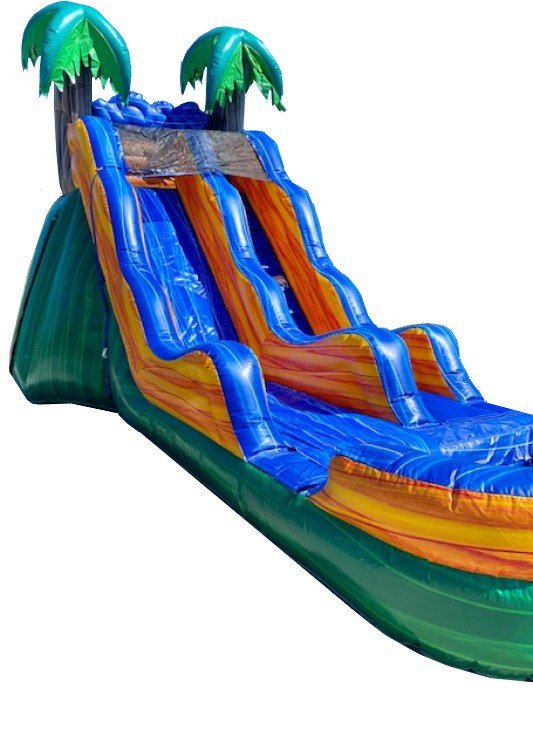 18ft Adventure Island Water Slide
from $340.00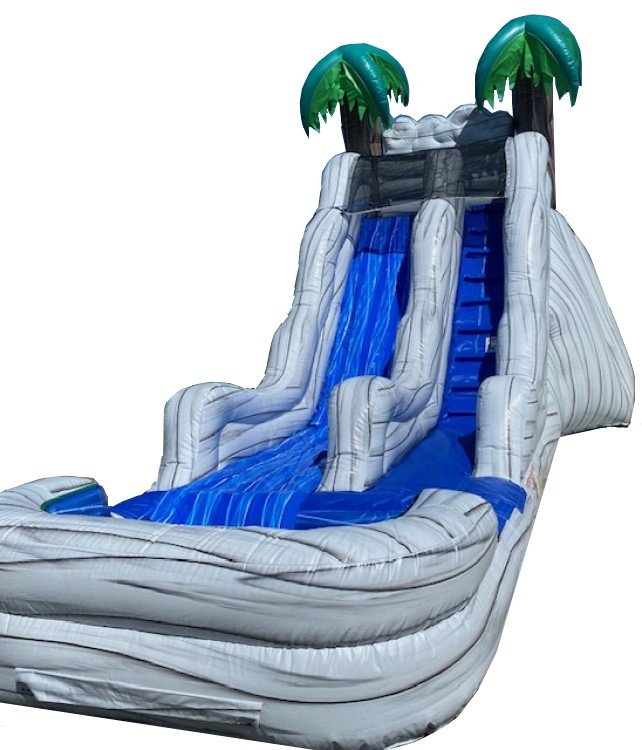 18ft Boulder Springs Water Slide
from $340.00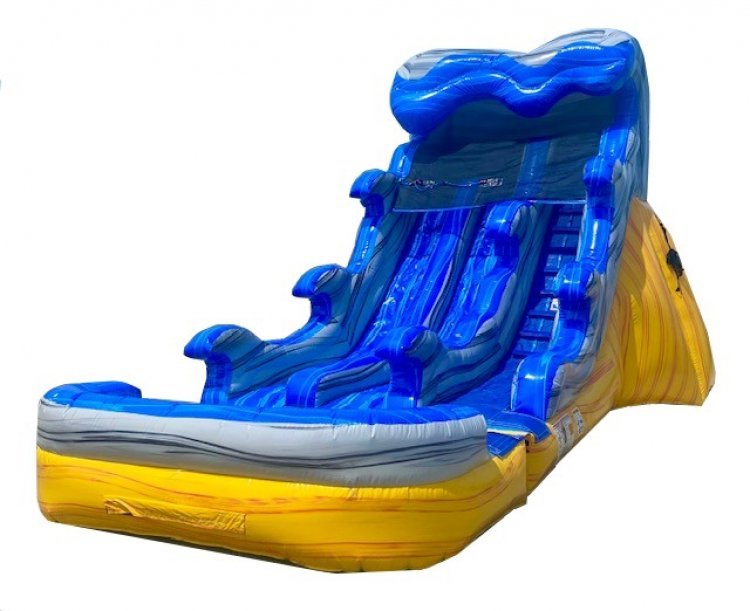 18ft Flamin Volcano Dual Lane Water Slide
from $440.00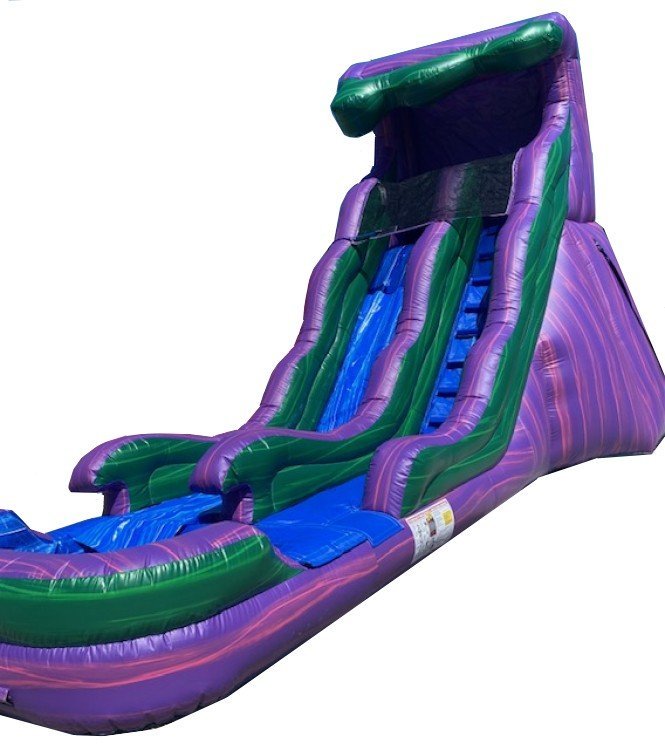 18ft Madness Water Slide
from $340.00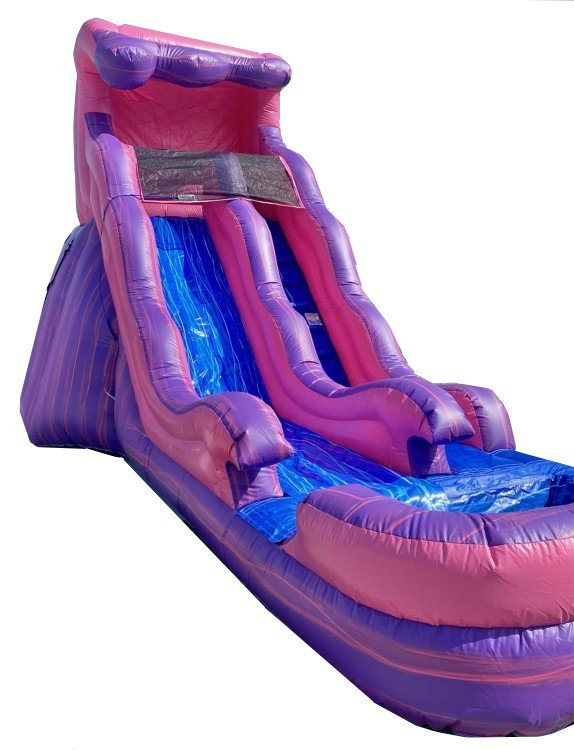 18ft Purple Passion Water Slide
from $340.00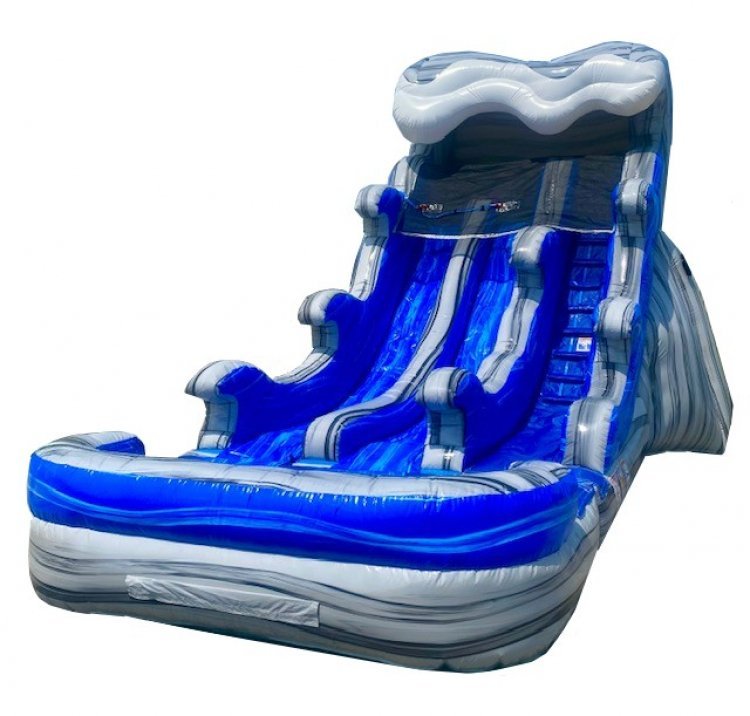 18ft Rockin Wave Dual Water Slide
from $440.00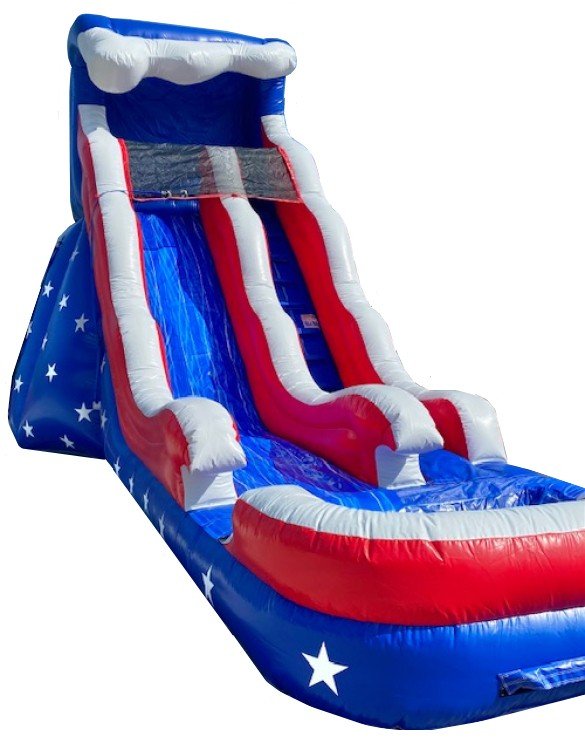 18ft Stars & Stripes Water Slide
from $340.00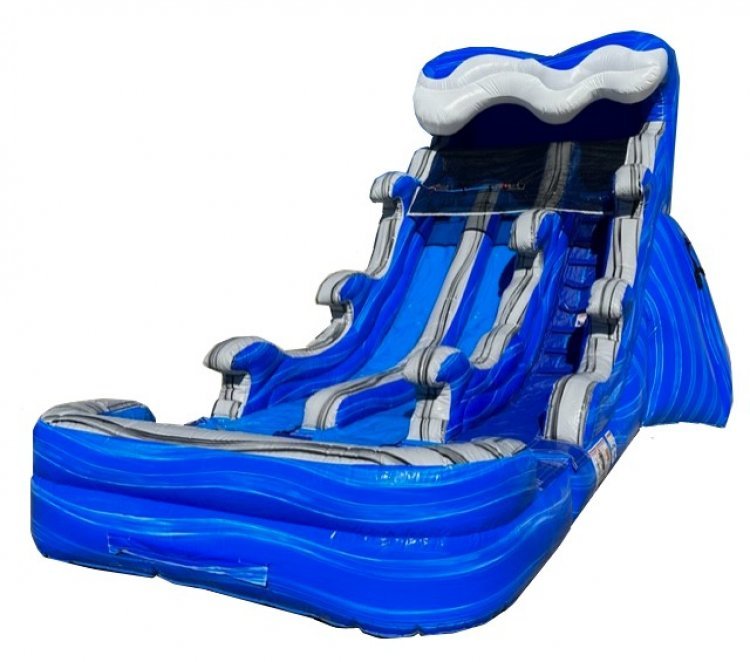 18ft Wave Dual Lane WaterSlide
from $440.00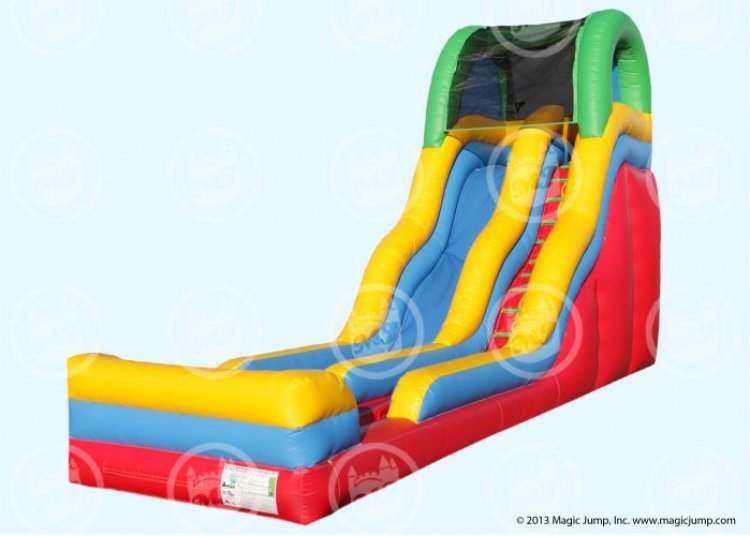 19' Slippity Water Slide
from $340.00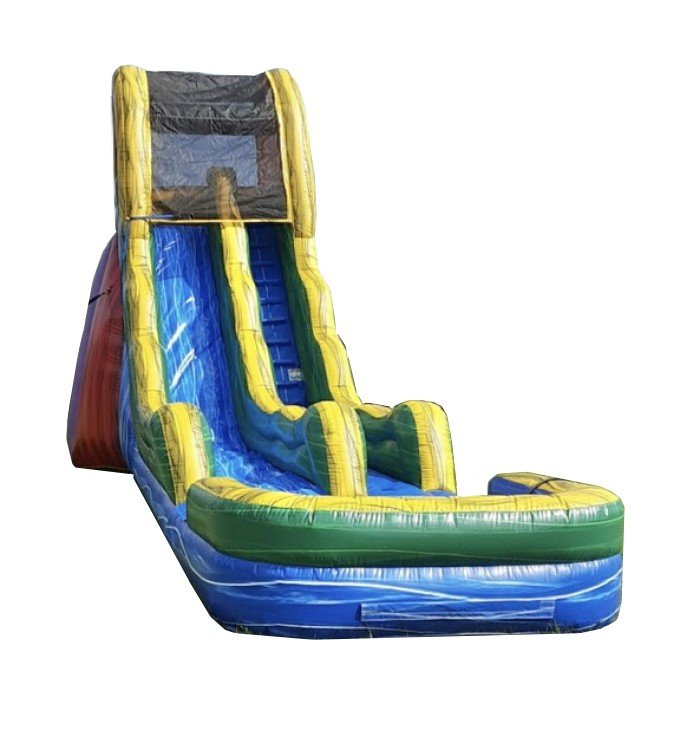 21ft Color Wave Water Slide
from $400.00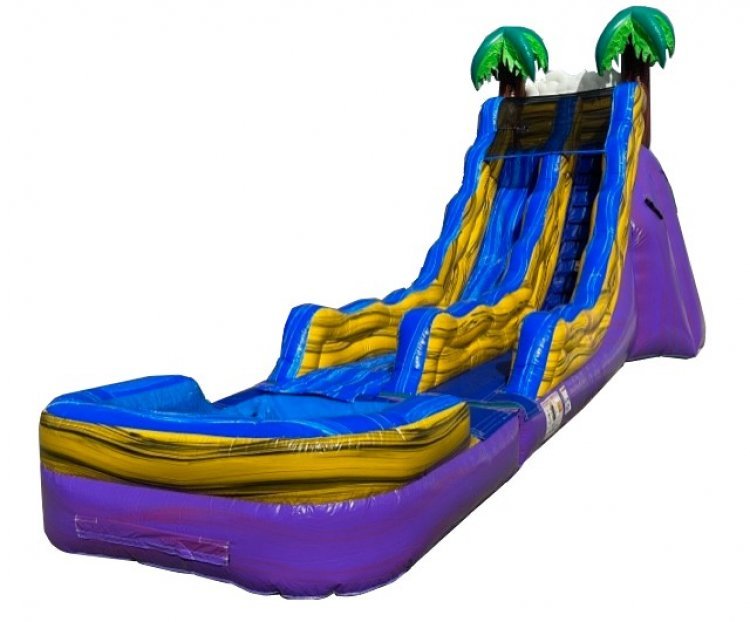 21ft Purple Oasis WaterSlide
from $400.00
35' H2Obstacle Course
from $350.00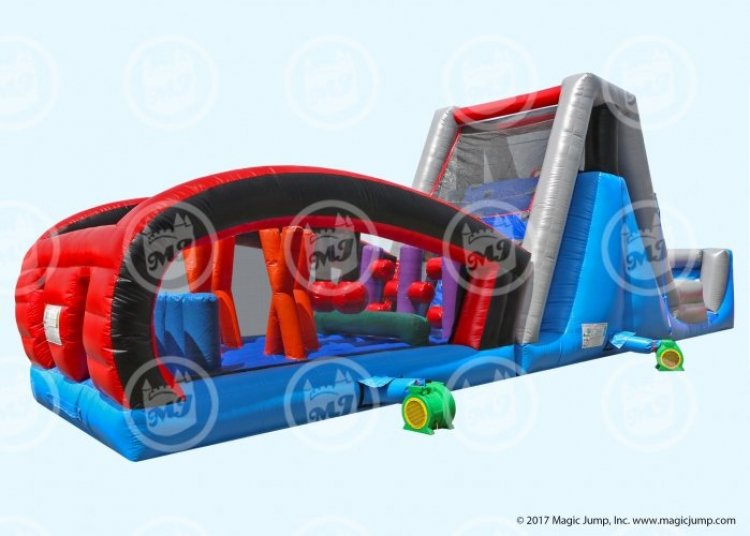 45' XL Wet Obstacle Course
from $475.00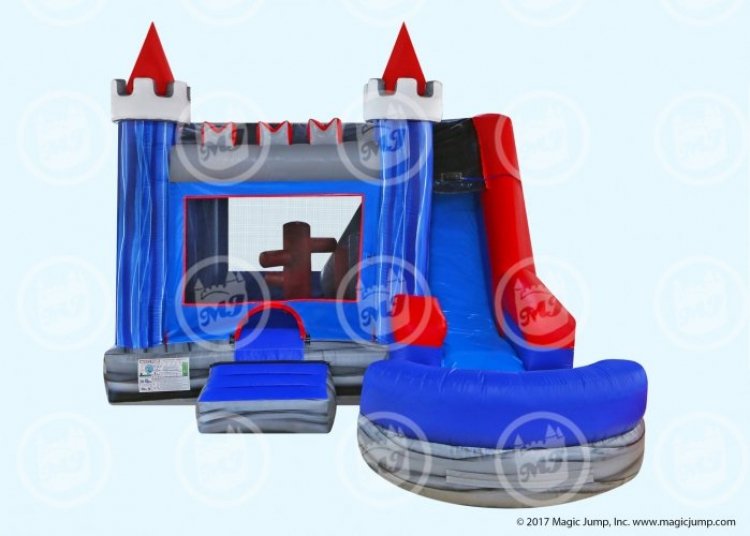 6 in 1 King's Castle Wet Combo
from $300.00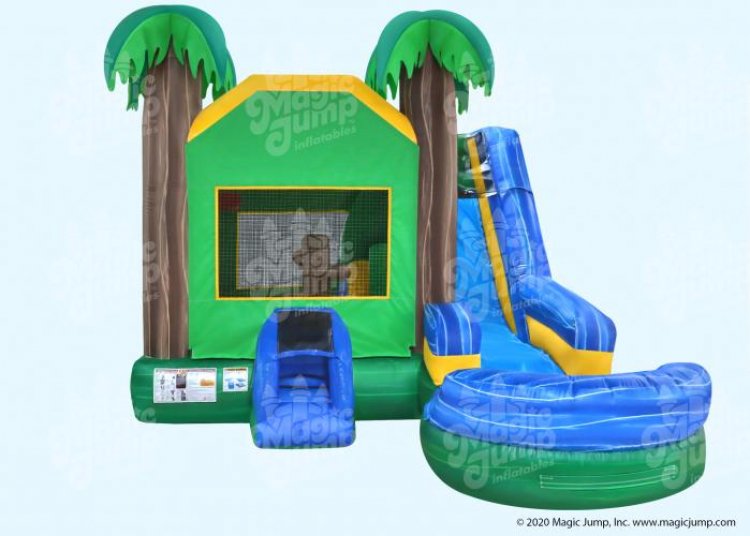 6 in 1 Tropical Wet Combo
from $300.00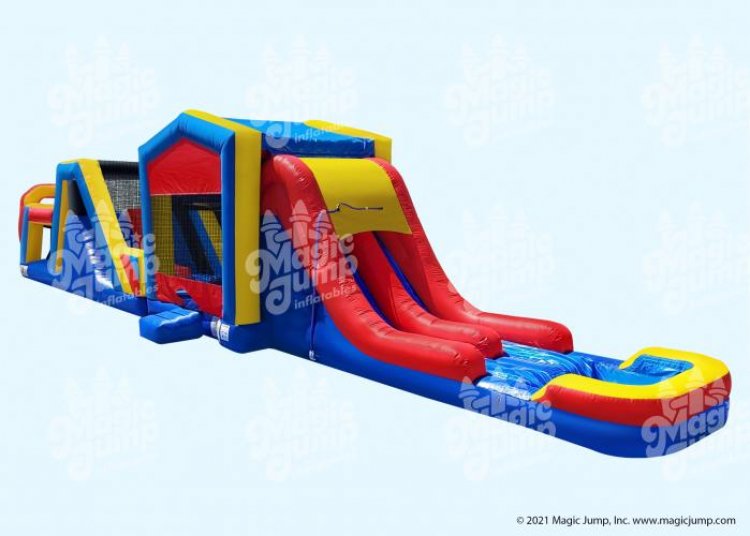 65' Ultimate Wet Obstacle Course
from $545.00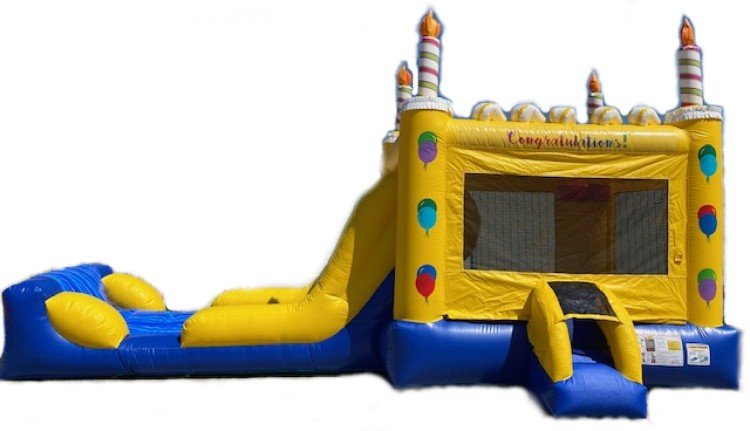 AMJ Cake Wet Combo
from $290.00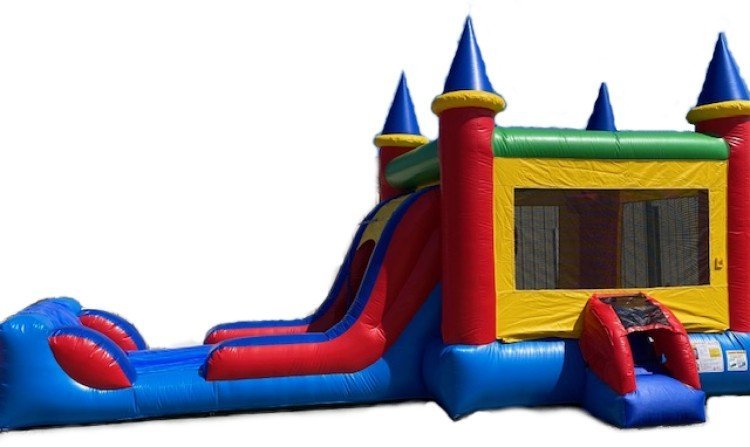 AMJ Castle Wet Combo
from $290.00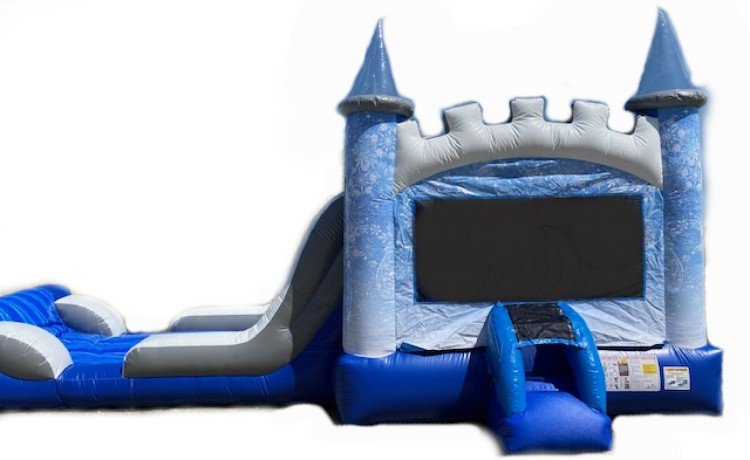 AMJ Ice Castle Wet Combo
from $290.00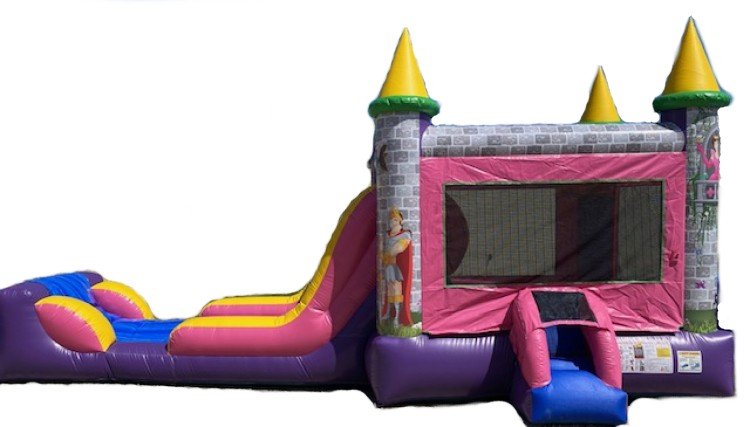 AMJ Princess Castle Wet Combo
from $290.00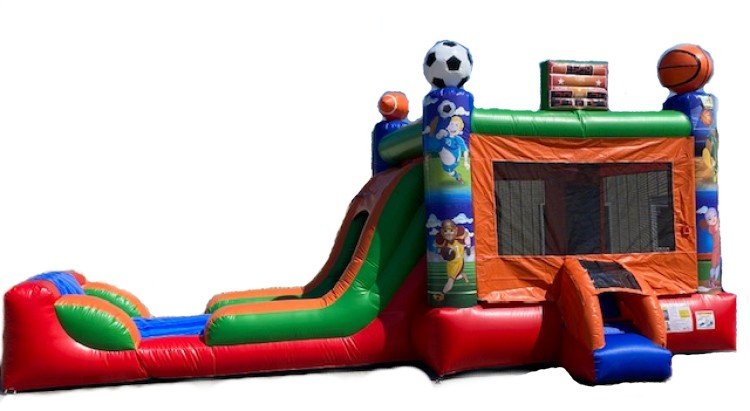 AMJ Sports Wet Combo
from $290.00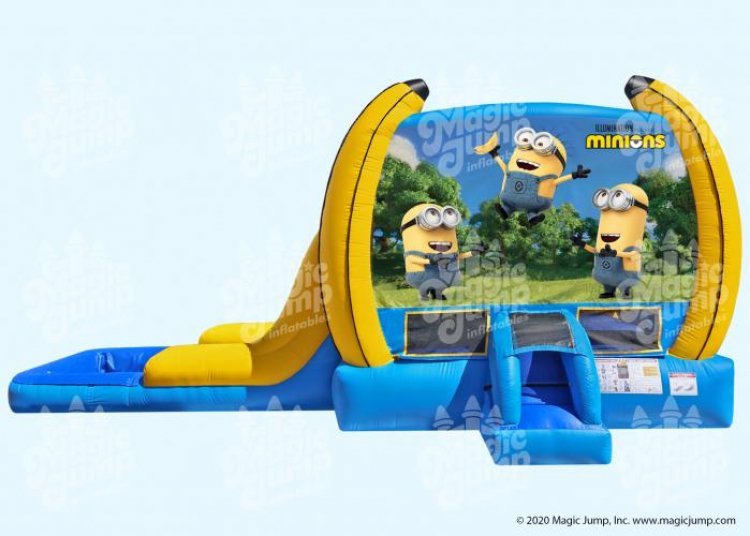 Despicable Me Wet Combo
from $340.00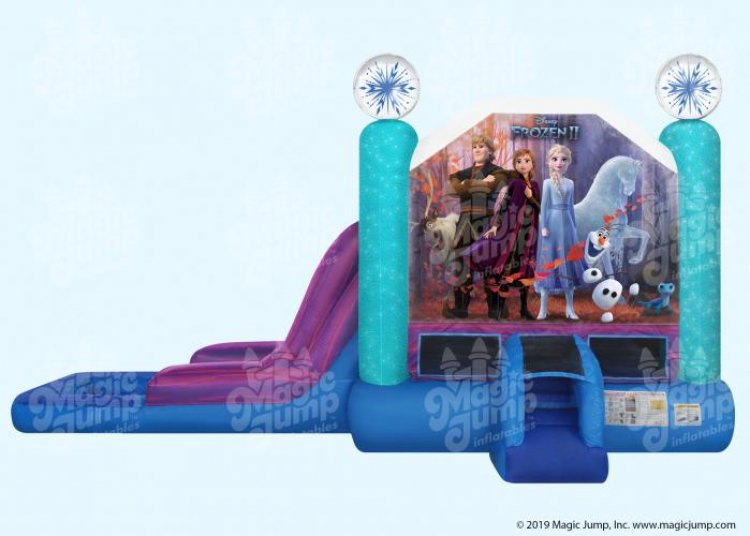 Disney Frozen 2 Wet Combo
from $340.00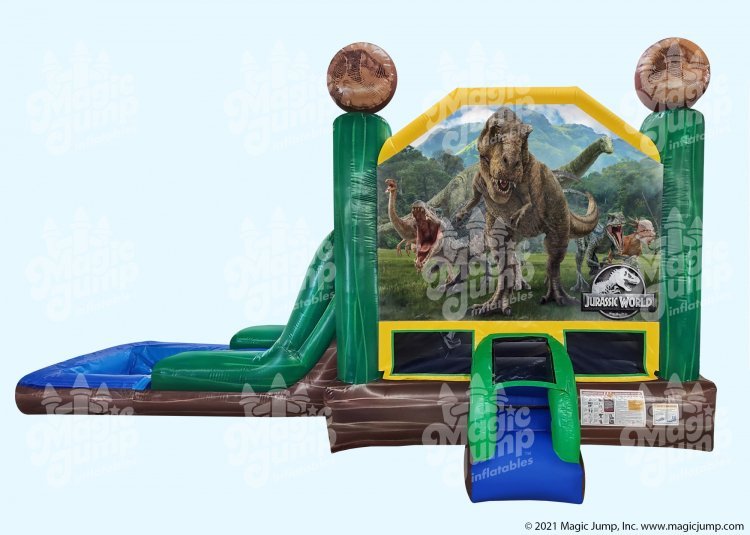 Jurassic Park Wet Combo
from $340.00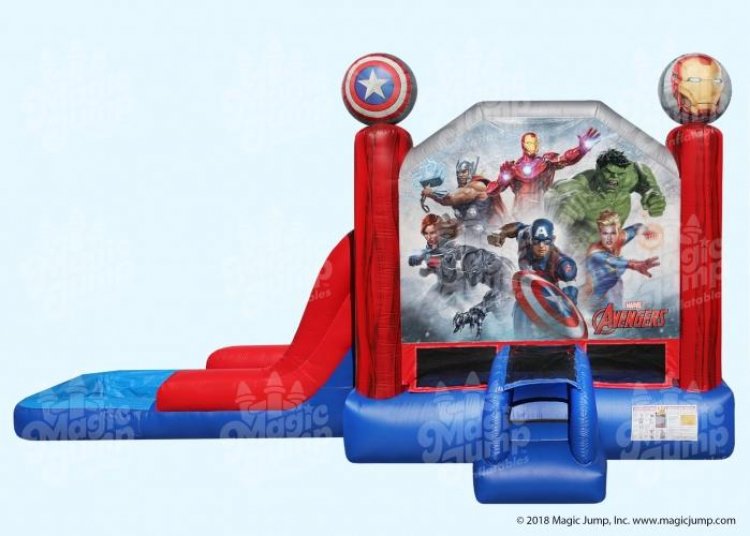 Marvel Avengers Wet Combo
from $340.00
Marvel Spider Man Wet Combo
from $340.00
Marvel Spider Man Wet Obstacle Course
from $545.00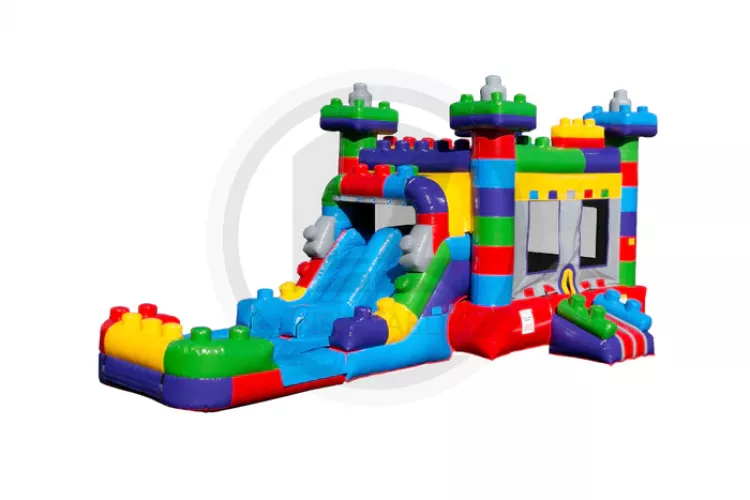 Party Blocks Wet Combo
from $315.00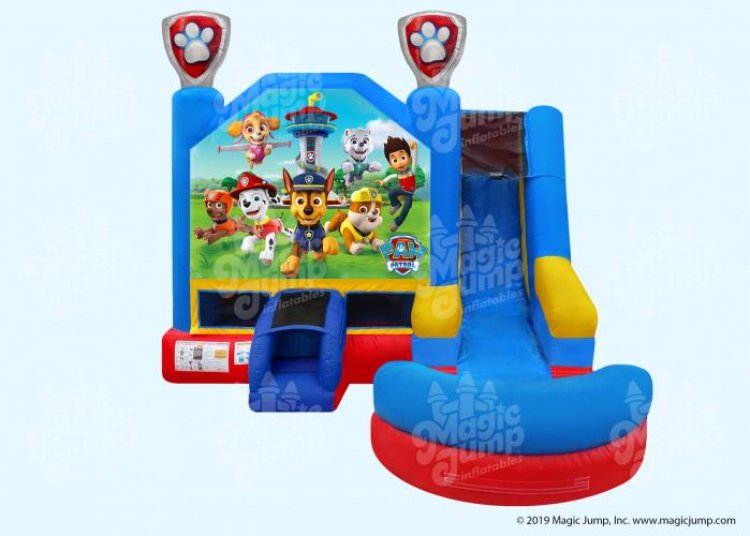 Paw Patrol 6 in 1 Wet Combo
from $340.00
Star Wars Wet Combo
from $340.00
Star Wars Wet Obstacle Course
from $545.00
Tropical Breeze Wet Combo
from $290.00